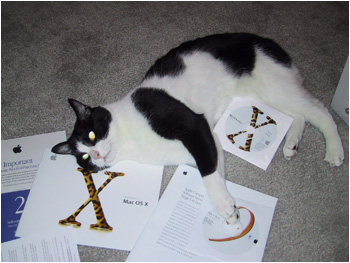 "I know you're "old school" and all(whatever the hell that means, stupid upper mammals), but can we PLEASE install this new kitty-OS, it's supposed to be real good, in fact, it's named after us cats: Jaguar"

Want to talk about classic Mac gaming? Join us in the forums!




NOTE: (a)MCG is not complete....in fact, it's being completely redone. During this process you'll find games that are actually reviewed, and games that just simply have small bits of info with them. I am working on it...
Below you will find a list of all the classic games I own. I am currently in the process of redoing the guides and adding reviews to all of the games. From time to time, you may notice that certain games have been taken down, this is because I am working on the review. Before you view through, or if you have any questions please read the FAQ for this page.

Total Games Reviewed: 6
Total Classic Apps Reviewed: 2

General Tips for the installation and setup of ALL older Mac games.

Mac Classic Games:
Duke Nukem 3D: Atomic Edition
Indiana Jones and the Fate of Atlantis
Quake


Quake: Mission Pack No. 1 - Scourge of Armagon


Sword
Tomb Raider II



Classic Mac Apps:
After Dark 4.0
Simpsons Screen Saver, The


Games in the old format
(will be converted to the new one at some point)
9: The Last Resort
AfterLife
Better Dead Ratification, The
Burn: Cycle
Dark Eye, The
Dark Forces
DarkSeed
Dark Vengeance
Dig, The
Duke Nukem 3D: Duke it out in D.C.
Ferazel's Wand
Full Throttle
FutureCop: L.A.P.D.
Heart of China
Hearts Deluxe
HellCab
Indiana Jones and the Last Crusade
Inherit the Earth
Jazz Jackrabbit 2
Labyrinth of Time
Leisure Suit Larry 5: Passionate Patti Does A Little Undercover Work
Mac Action Sack:
- Abuse
- Minotaur: The Labyrinths of Crete
- Pathways into Darkness
- Marathon
- Marathon 2: Durandal
- Marathon Infinity
Monkey Island 2: LeChuck's Revenge
Phantasmagoria
Prime Target
Prince of Persia Collection
Redneck Rampage
Residents, The: Bad Day on the Midway
Rise of the Dragon(sound fix)
Secret of Monkey Island, The
ShadowGate
Shadow Warrior
Shadow Wraith
Shockwave Assault
SimAnt
Simon the Sorcerer II
Spaceship Warlock
Star Trek: 25th Anniversary
Star Trek: The Next Generation - A Final Unity
Syndicate
System Shock
Tomb Raider Gold
Unreal Tournament: Game of the Year Edition
WipeOut 2097
Wolfenstein 3D
Wrath of the Gods

Classic Apps in the old format
(will be converted to the new one at some point)
After Dark Classic
After Dark Deluxe
After Dark: Disney Screen Saver Collection
After Dark Games
After Dark: Midnight Collection
After Dark: Screen Studio
After Dark: Totally Twisted
Catz
Connectix Virtual Game Station
Simpsons, The: Cartoon Studio
SoundMaster
Star Trek: The Screen Saver
Virtual Game Station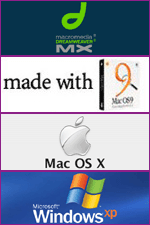 Built with Macromedia DreamWeaver MX across Mac OS 9, Mac OSX and Windows 2K/XP.


Check out WAG videos on Yahoo!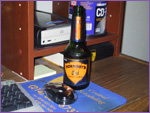 Best viewed in Firefox...with a broadband connection, and a Hornsby's.
Optimal display: 1024 X 768