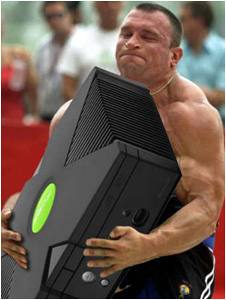 'ello,
Welcome to The Big, Heavy-ass Xbox Section. Here I have a collection of reviews for Xbox and Xbox 360 games and hardware. Just my thoughts on the various things I've tried...

Here's a few things you should know before we start:

* All Xbox games are reviewed on my Sega-Pack Xbox with its Philips DVD Rom.

* All Xbox 360 games are reviewed on my Xbox 360 Pro.
* All games are played on either my 27" Panasonic-Panablack TV via an S-Video connection or my Sony WEGA 34" HDTV via Component connections.

* A 5.1 sound setup is used, and is coming out of my Kenwood VR-357 system.
* Some games feature screenshots acquired from a variety of places, others are taken from my video capture card. They are not always 100% representative of the game's actual graphics.
* I own all games that are reviewed, unless they are contributed reviews.

* I score on a 100 point basis. 100 being perfect(or damn close to it), 0, of course, being the worst.

* The opinions of the various women in the reviews do not necessarily reflect the opinions of Whip Ass Gaming. They're just there, mostly, for comic relief...
As this section is just starting, content is really limited...but expect to see more reviews very soon!

Let's roll...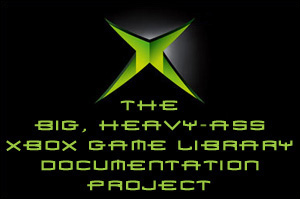 The Big, Heavy-Ass Xbox Game Library Documentation Project:
Fuck what the back of the box says, see what your Xbox games *really* support!





Team Xbox
For news, reviews and just about everything else!