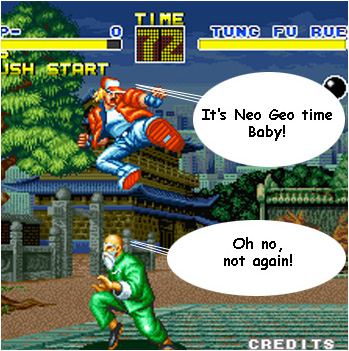 Welcome to Neo Geo: Hardcore. Here I have a collection of quick reviews for various Neo Geo CD games. Don't expect anything in-depth, these are just quick overviews of the games and how I feel they measure up. Here's a few things you should know before we start:

* Neo Geo games are reviewed via my Japanese model 1 Neo Geo CD system(front loader). Unfortunately, if the game did not have a language option in it, it will always be in Japanese and unreadable by me.
* Neo Geo games are played on my 27" Panasonic-Panablack TV via AV cable(NGCD) and full stereo connections. Sound is coming out of my two Bose, Model 21 Speakers and Kenwood subwoofer.
* A PC NGCD emulator is used solely for the express purpose of getting screenshots. With that said, the pics are then resized, etc. This will often times mess with the quality of the shots. Remember, PC NGCD emulation is exactly that; it's not in the res or way the developers initially intended you to enjoy the game. A TV set is what the games were built to display on, it's also the only way to get an accurate display of how they intended for the graphics to look.
* For the Generation 2 reviews that feature animated gifs, it's important to note that they do not accurately portray the game's animation, speed or framerate. They are just fun, extra things I like to add to give you a rough idea of how the game would look in motion on your TV.

* I own all games that are reviewed.

* I score on a 100 point basis. 100 being perfect(or damn close to it), 0, of course, being the worst.

* For control, a rating is based off using the Classics Converter that allows me to use a PSX pad in place of the ultra-crappy "Pro" controller or the standard Neo stick.

* The opinions of JD, my cat, do not necessarily reflect the opinions of Whip Ass Gaming. He's an angry cat...

Let's roll...

Got a Neo Geo AES/MVS/CD? Wanna talk about it? Join us in the forums!





Kazuya, Neo-Geo.com:
For all of the info, reviews and FAQ's you could *ever* need!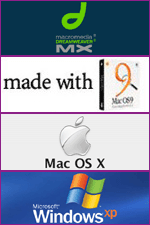 Built with Macromedia DreamWeaver MX across Mac OS 9, Mac OSX and Windows 2K/XP.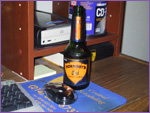 Best viewed in Netscape, Safari, or Firefox...with a broadband connection, and a Hornsby's.
Optimal display: 1024 X 768